FINALIZED MAP WITH LOCAL AFRICAN TEXTILES:
Map of Metropolitan Africana Wing
African Textiles differ by region, but often use similar pattern work and color to convey ideas and stories that can be translated through image. The Metropolitan Museum has a small collection of African art, but each one has a voice and pattern that communicates, creating a conglomerate of African textile language.
COMMONALITIES:
Security
Most African art is functional, displaying many patterns that seem to move throughout the piece. Most sharp lines and boxes indicate security or strength, as shown in this woman's skirt.
Ingenuity
A function piece with sharp lines, like daggers. These "teeth" often can symbolize ingenuity, which serves for this vases functionality.
Leadership
Consecutive rigid lines often mean leadership as well as discipline. This scarf could've been owned and worn by someone of a higher social status, which could also be indicative by the color, as blue was not common.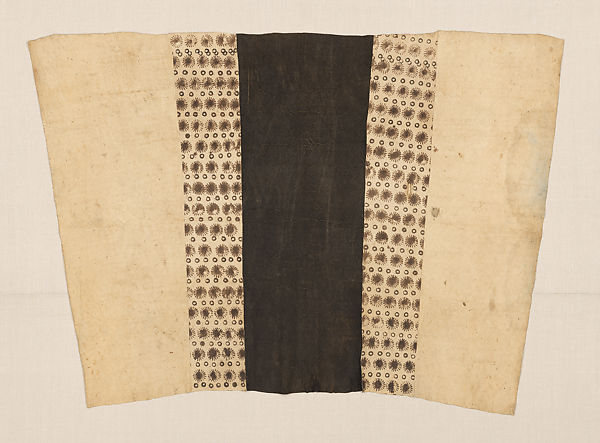 Loyalty
Often times curves or circles in textiles can mean one or two things: loyalty and/or greatness. Speckled together, they often symbolize commitment.
El Anatsui's many pieces made from recycled goods in Africa.
Superiority
Patterns taken from El Anatsui's work. The flower can symbolize superiority or prosperity, and ironic twist on Anatsui's "trash sculptures." Anatsui uses gold to symbolize both status and wealth, most likely alluding to the African rich coast.
a commemorative piece, used in celebration
Unity
This symbol is often used to showcase unity or perseverance. A commemorative piece such as this could also indicate themes of democracy and/or cooperation.
Protection
Diamonds are a common pattern in African textiles that can mean protection. More often than not, they can mean procession and skillfulness as well.
Discover how I Mapped the Met, and follow my blog as well.